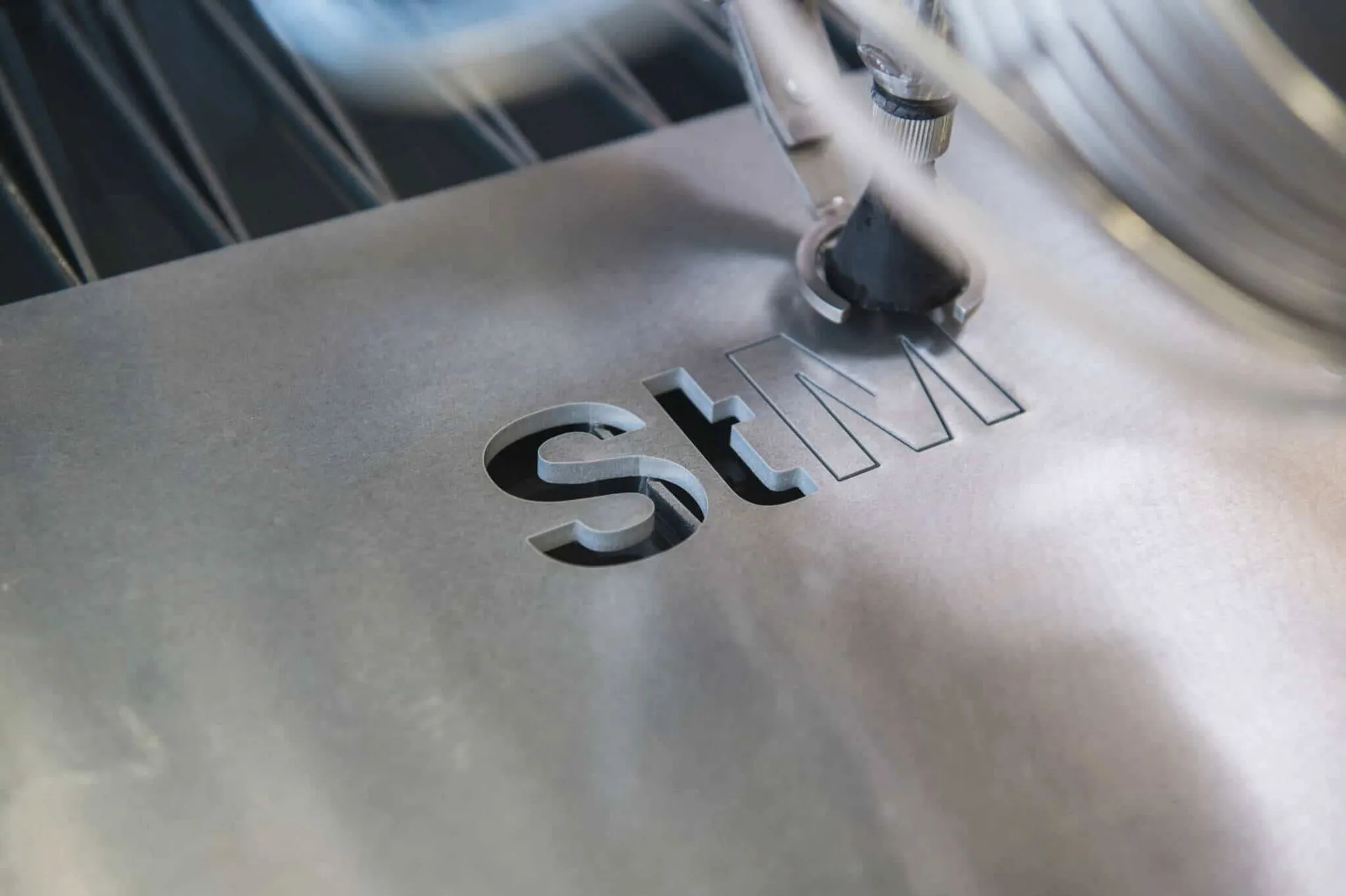 33 reasons for STM
Waterjet cutting – flexible cutting process for almost all materials.
33 good reasons for a waterjet cutting system from STM
1. individual configuration up to special production
With us, you don't just get a waterjet cutting system, but also both the solution for your cutting requirement.
2. the all-round tool for a wide range of industries
Whether stonemason, metal worker or seal manufacturer – even material changes within the production are very easy by adjusting the cutting speed, neither gas, nor optics have to be changed.
3. everything from one source
Consulting, planning, manufacturing, assembly, service. From the first inquiry to the final acceptance, we take care of you and your project. A trusting and cooperative partnership is our priority.
4. personal. Direct. Solution-oriented.
As a family business, we think long-term and sustainably. That is why we help our customers in all phases: From test cutting to production consulting to the expansion of your plant, we are there to help you in word and deed. Because together you achieve more.
5. economic. Flexible. Innovativ.
Due to the modular construction system, we can put together your personal desired system. The special thing about it is that you can also upgrade the system without any problems. Waterjet cutting technology opens up unimagined possibilities and is a secure investment in the future.
6. partnership. Service. Trust.
Whatever you need, we make it happen. Because you can obtain operating fluids and spare parts directly from our premium partner – RWS Waterjet Service" at a reasonable price in the online store. If you have any production questions, we will be happy to support you via remote maintenance, and if necessary, an RWS technician will be at your site quickly.
7. sustainability. Responsibility. Efficiency.
Innovation and resource-saving production are more than just two buzzwords. We research and develop targeted solutions to work more economically, actively recycle and protect the environment. This is not only good for the conscience, but also good for the balance sheet.
8. long-standing know-how
Many years of experience make us the pioneers of this technology. A success story since 1992.
9. STM modular system – exactly the way you want it
From the small 1×1 2D cutting system to the 15x4m system with multiple Z-axes and multiple 3D cutting heads. The intelligent, modular system combines the advantages of standard components with the high degree of customization of our versatile configuration range. STM waterjet cutting systems can also be retrofitted with a wide range of tuning options. Thus, your system grows with you.
10. simple to use – principle – cutting can be so easy.
STM waterjet cutting systems are developed with the user in focus. That is why it is important that our systems are safe and offer maximum ease of use. STM waterjet cutting systems have a compact and user-friendly design consisting of three elements: cutting table, control cabinet and high-pressure pump. These three units are perfectly connected both visually and functionally.
11. STM SmartCut software – The heart of your cutting system.
STM SmartCut is the heart of every STM waterjet cutting system. The software is a complete program for creating or importing drawings and for setting process-specific parameters for the waterjet. The special feature is that the application does not require any special CNC or EDP knowledge. Take full advantage of the flexibility of the waterjet, as STM SmartCut simplifies operation with suggested strategies and an intuitive user interface.
12. partnership and references
Already over 700 systems worldwide speak for themselves. Our goal is to communicate with our customers at eye level. That is why we are represented in a wide range of industries and are happy to share our expertise with you (see references).
13. own construction
Innovative, functional and solid technology through our own product development. Low maintenance and durable construction. No adhesions, guides easily accessible – no bellows, easy cleaning. Portal construction and pre-assembly (installation within 2 days)
14. highest quality standards
All components are exclusively branded products from Germany, Austria and Switzerland.
15. 15 years spare parts availability
We offer our customers maximum security through cooperation with our long-term suppliers and
Standard components.
16. rapid availability in the event of an emergency
Since our service can act from 3 locations, we are everywhere with our customer fast on the spot.
17. live support via remote maintenance
Our office staff can be reached by phone Mon. – Thu. from 8:00 a.m. to 5:00 p.m. and Fridays from 8:00 a.m. to 1:30 p.m. and, with your permission, can connect directly to your facility and provide assistance with technical concerns.
18. on site within 24h if needed
Through our dense service network, we guarantee our customers that we can be on site in the event of damage, so that you can resume production as quickly as possible.
19. completely secured by a maintenance contract
To maintain the performance and value of your waterjet cutting system, we recommend signing a maintenance contract. The maintenance of the equipment should be min. every 2000 operating hours or 1x per year. Our service department will automatically contact you at regular intervals to query the operating status of the system and, if necessary, to arrange an appointment.
20. we support you with grant applications
Save twice: Invest in the future now and take advantage of subsidies! Some special energy-efficient components, such as the Servotron high-pressure pump, are subsidized by the government. We will be happy to provide you with comprehensive information about this and support you with the applications.
21st STM Research Collaborations
Together with our partners and renowned research institutions, we are developing the waterjet cutting systems of the future today. Industry 4.0 is not just a buzzword for us. STM waterjet cutting systems enable networked working, resource-saving production and lean just-in-time production as well as small batch production.
22. motivated and experienced employees
With us, you benefit from the efficient symbiosis of a versatile team. Experienced, long-standing employees with a high level of expertise and young, trained and dynamic colleagues with fresh ideas work together hand in hand. They are all on fire from the first sketch for each highly individual solution.
23. versatile, effective, economical
Reduce operational costs and increase profits. OneClean, the modular all-round system for recycling and cleaning abrasive and water, enables you to operate your waterjet cutting system even more sustainably.
24. new requirement?
In our test cutting center, we determine exactly whether and with which cutting speed, cutting edge quality, working pressure, nozzle diameter and abrasive quantity a specific material can be cut. Send us your material, specifying the target data, as a file in AutoCAD format (dxf, dwg) by e-mail and you will receive a free test sample including a test report and specific operating cost breakdown.
25. promotion of young talent
We see our trainees as the employees of tomorrow. That is why it is particularly important for us to support our apprentices in their apprenticeship in the best possible way from the first day of training.
26. funding
In addition to traditional financing through your bank, we offer you various alternative financing options such as leasing and installment plan. Together with our long-standing partners in the financing sector, we will find the right path to your waterjet cutting system.
27. online spare parts store
Accessories such as water nozzles, sealing packages, abrasive sand, focusing tubes and a host of other accessories can be purchased quickly and conveniently directly from our online store.
28. individual and free offers
Benefit from our individual, non-binding and free consultation and quotation.
29. healthy, growing company
Since spring 2018, an additional production hall is located on our company premises in Eben/Pongau. Our manufacturing thus continues to expand and extends the areas of research and development
30. education and training
Our employees in all areas regularly undergo further training. In-house training rooms enable training directly at the company location.
31. strong brand
We are one of the largest manufacturers of waterjet cutting equipment in Europe. Individuality is our strength. The realization of even seemingly impossible concepts is our expertise. We have made a name for ourselves with this and are a valued partner for our customers.
32. internet presence
You can find us on the Internet at www.stm-waterjet.com. We are also active in social networks such as Facebook, Youtube, Lingedin and Xing.
33. conclusion
Building and supplying waterjet cutting systems is easy, but taking care of the details is demanding. Everyone is fast, we are honing in on the decisive tenths. Our claim – Build the perfect waterjet cutting system for you.
We think one cut ahead!