A plus in precision and efficiency.
Thanks to automatic skew compensation.
The STM bevel cut compensation cutting head "STM TAC/12" ensures more precision, speed and efficient use of resources in waterjet cutting.
In principle, waterjet cutting has always provided a nice, fine and clean cut. If there wasn't one important point that sometimes clouds the good and strong result a little – the so-called angle error.
Good to know: Angular error
An angular error occurs when the waterjet loses power during cutting, resulting in more material being removed from the top than the bottom. This creates a conical cutting gap.
The STM cutting head with integrated Taper Angle Control (TAC) and a swivel range of up to 12° compensates for the angular error. This allows precise production even with high feed rates.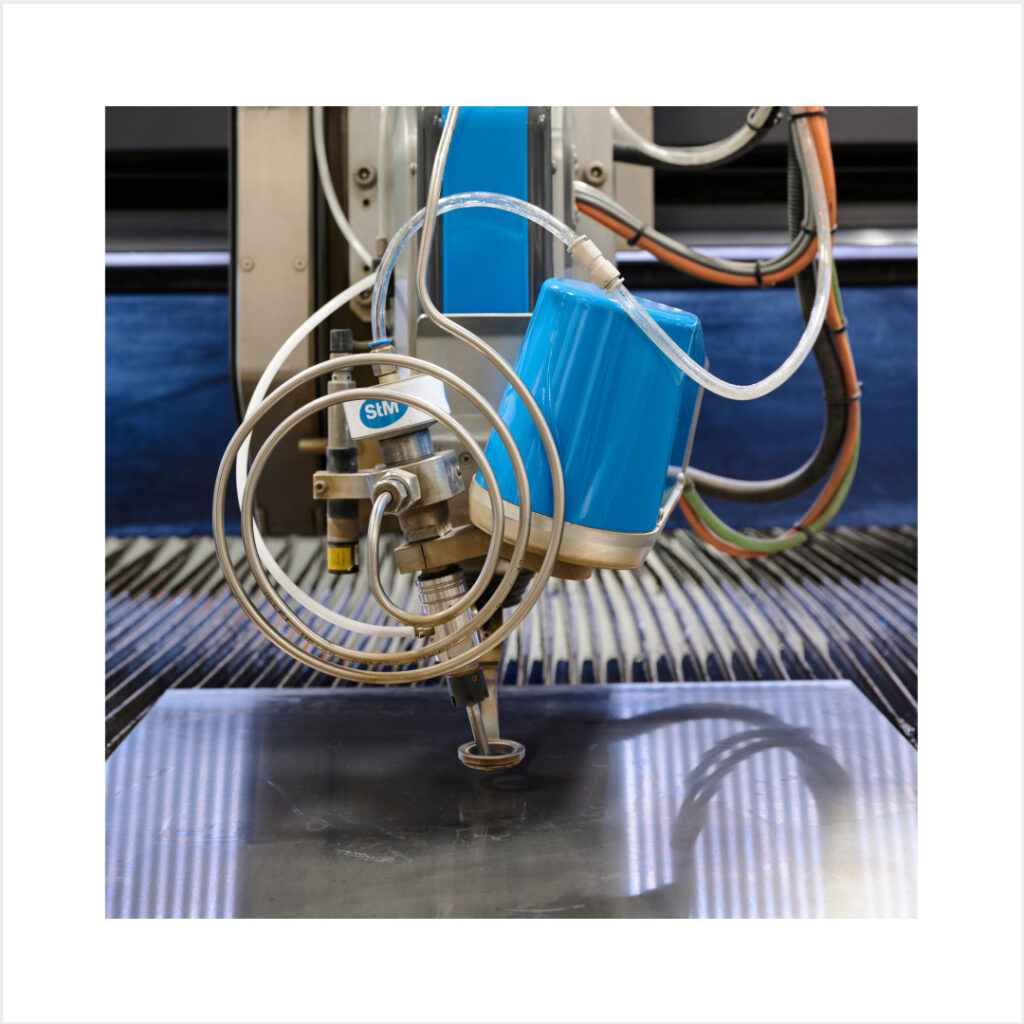 The solution from STM automatically puts an end to angular error
The STM "STM TAC/12" cutting head represents a significant competitive advantage in waterjet cutting today. This is because it prevents the usual deviation between the upper and lower edges of the cutting material – the angular error mentioned at the beginning. The result is a V-shaped taper at the cut edge. Especially with thin material, such as 2 mm stainless steel, the angular error used to have an even greater effect.
The higher speed makes the big difference
To prevent this, the cutting speed was previously reduced, but this resulted in longer production times and thus higher costs. The solution is the STM cutting head with integrated "Taper Angle Control". De facto, the "STM TAC/12" automatically compensates the angular error to less than +/- 0.01 mm. And it does so even at up to 4 times the cutting speed. Cutting with up to 12° bevel is also very important in practical use beyond that. Keyword bevel cutting, for example for plastic parts in case construction.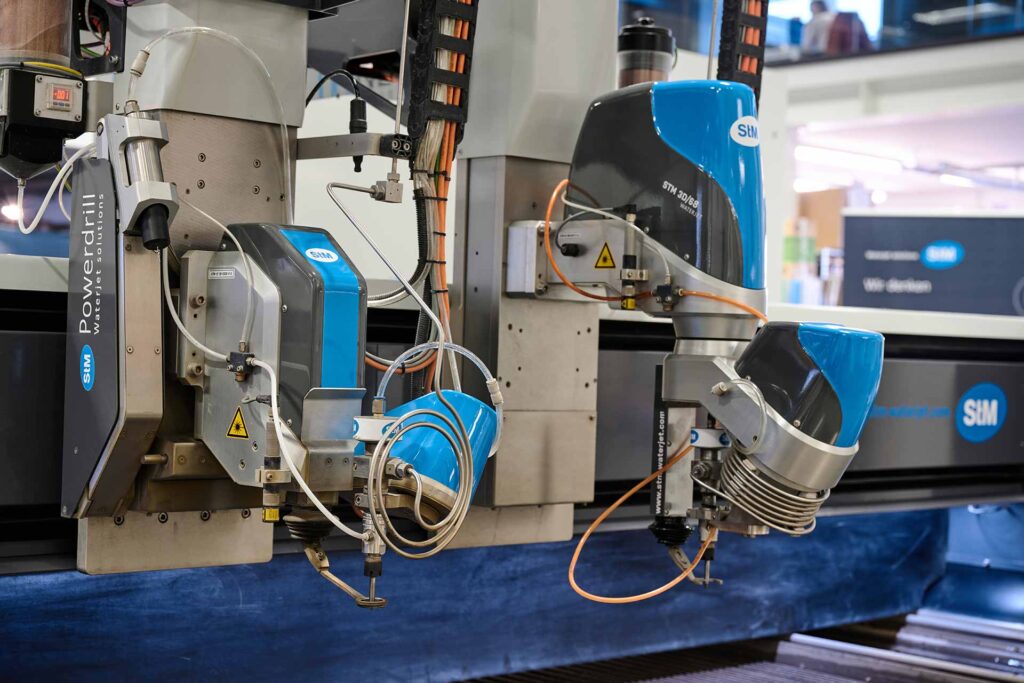 Automatic skew compensation
– now also retrofittable for STM MasterCut
The compact cutting head can be easily retrofitted to existing STM waterjet cutting systems. Previously for the PremiumCut series and now also for the STM MasterCut V2 system. To guarantee reliable operation, the cutting head has integrated height sensing and collision protection. The encapsulated mechanics, which do not require sealing air, and the motors ensure wear resistance and easy maintenance. STM thus once again fulfills its mission of providing solutions for high-quality, economical and convenient cutting of all types of materials.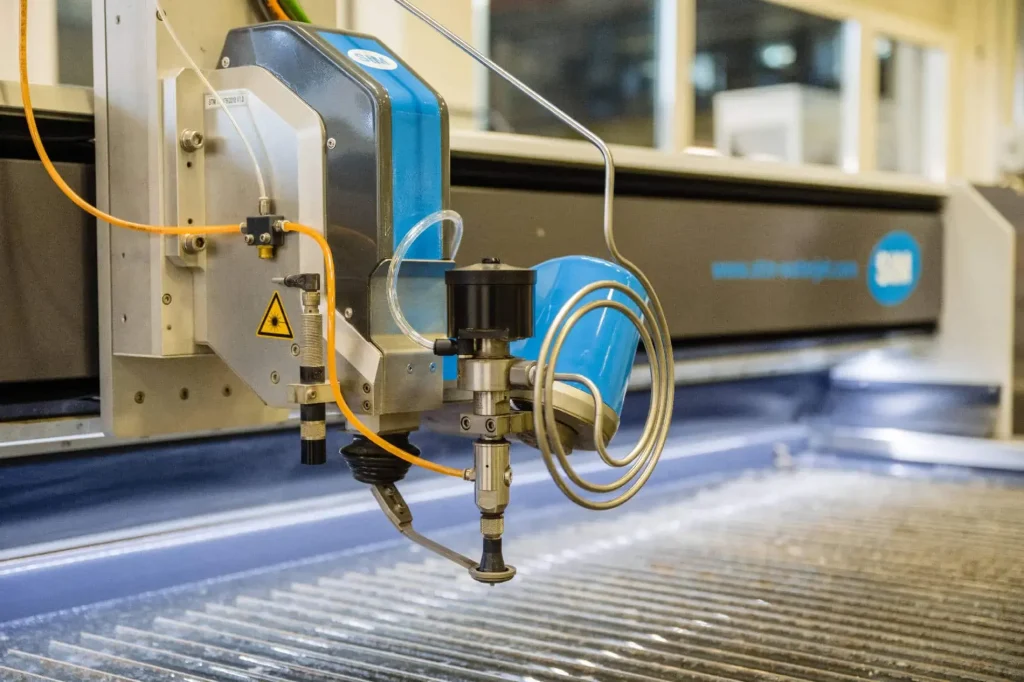 Growth Market Miniature Components: Ideal for the STM TAC/12
Today, suppliers who can produce smaller and lighter component series in first-class quality quickly and economically without thermally deforming the surface have an advantage. This applies to the processing of ceramics, glass, plastics through to steel and composite materials, which are required en masse in the smallest parts for electrical, automotive, aerospace and medical technology.
The best example of this growth market is the MicroCut system from STM. In combination with the STM TAC/12 cutting head, tiny workpieces with up to 10 μm rectangular and with inner radii down to 0.1 mm can be produced quietly, cleanly and at top speed. Even holes or nested parts can be cut with the without any problems, because the classic angle error is now automatically compensated.
A head start thanks to innovative software and modular system
A control panel with integrated control via intelligent SmartCut CAD/CAM software and protective devices for dirt and noise ensure optimum user-friendliness as well as unlimited scope for production strategy.
In addition to the thermally and physically separated stainless steel water basin, the exclusive use of brand-name components also ensures reliable cutting and wear resistance. The MicroCut, for example, enables fully automatic production with the highest possible degree of precision. What's more, thanks to the modular STM system, the system can be adapted to highly specialized cutting tasks and retooled at any time.