Waterjet cutting stone
Granite, marble, limestone, slate, sandstone and more.
Waterjet cutting of stone is a fascinating technology that makes it possible to process even the hardest types of stone precisely and gently. In doing so, it opens up new manufacturing possibilities, as even the finest contours can be realized with minimal kerf widths. Using a high-pressure water jet combined with abrasive abrasives opens up many possibilities for the design of stone materials.
This extremely precise separation process has become a very interesting economic solution. It offers high efficiency at high volumes, enables material savings, is versatile and incurs only low tooling costs.
In addition, the process is very environmentally friendly, as no harmful vapors or gases are produced and the used water can be recycled.
What types of rock can be cut?
Waterjet cutting is the optimal solution. It separates all types of stone up to 300 mm material thickness. It does not matter whether the rock is soft or hard and brittle. It also offers the possibility to separate different material composites with different material properties such as tiles and glass.
Other stone materials that can be cut well are soapstone, travertine or artificial stone.
Granite
Marble
Limestone
Schiefer
Sandstone
Travertine
Quartzite
Onyx
Basalt
Cast stone
Would you like more information about cutting rock with water?
5 advantages – waterjet cutting stone
Waterjet cutting of stone offers significant advantages: It enables the highest precision in the processing of stone materials, allowing complex shapes and fine details to be precisely implemented.
Due to the gentle cutting process without heat development, the structure and hardness of the stone remains unchanged, minimizing material losses. Versatile application ranges from soft to hard stone types, allowing flexibility in different areas.
In addition, the process is environmentally friendly as it produces no toxic emissions and does not use chemical coolants. Low post-processing saves time and costs, making waterjet cutting a preferred technology in numerous industries.
Technical details
Several technical details are of great importance in waterjet cutting of stone. These include the water pressure and volume flow, which influence the cutting speed and quality, as well as the selection and dosage of the abrasive for hard stone types.
The right nozzle shape and size are crucial for the jet angle and the precision of the cutting process. Precise CNC control ensures the exact implementation of the desired cutting pattern, while the correct distance between the nozzle and the workpiece is important for an optimal cutting process. In addition, an efficient water purification system ensures sustainable reuse of water and contributes to the environmentally friendly nature of the process.
Modern waterjet cutting systems from STM offer many options for fine tuning and guarantee the highest precision and quality when cutting rocks.
Material thicknesses of stones that can be cut are up to 300 mm.
Any shape cuts and bevel cuts up to 60° are possible.
The cutting accuracy is usually +/- 0.1 mm.
In waterjet cutting, the cut quality is basically divided into 5 quality levels.
Separating cut Q1 (for blanks / semi-finished products)
Standard cut Q3 (the most common cut)
Fine cut Q5 (for optimum dimensional accuracy)
In waterjet cutting of stone, the achievable cutting speeds are usually in the range of 500 to 3000 mm per minute.
These speeds can vary depending on the thickness of the material, the hardness of the stone, the desired cut quality and the machine performance. Waterjet cutting of stone often requires slightly lower cutting speeds to ensure optimum precision and cut quality due to the harder nature of the material compared to soft materials.
Water pressure is typically in the range of 3600 to 4000 bar, but can vary depending on stone type and material thickness.
CNC control enables precise and repeatable cutting. The STM SmartCut cutting software offers high ease of use and functionality as well as flexibility.
References
Natural stone specialist cuts with 2 STM waterjet cutting systems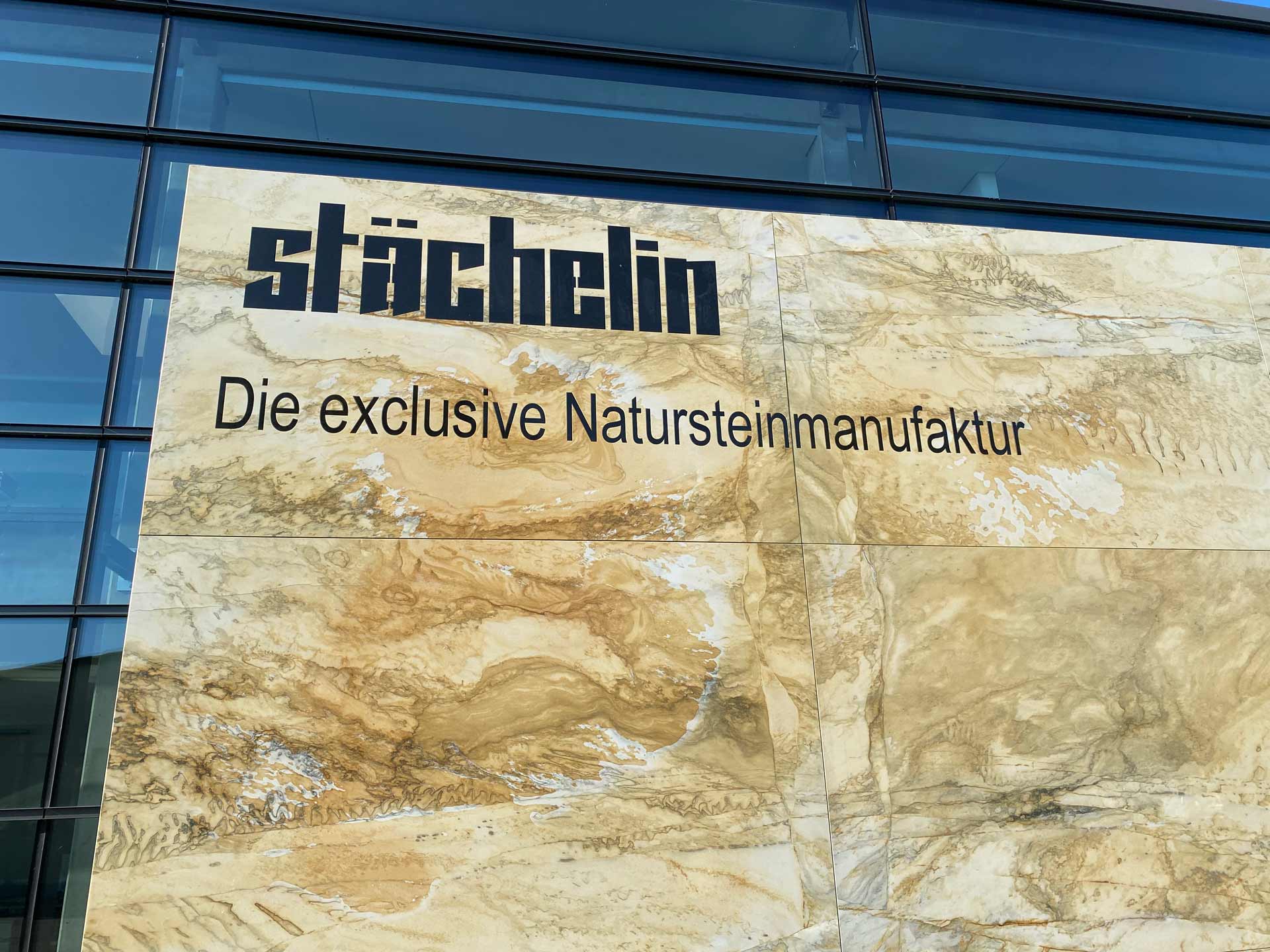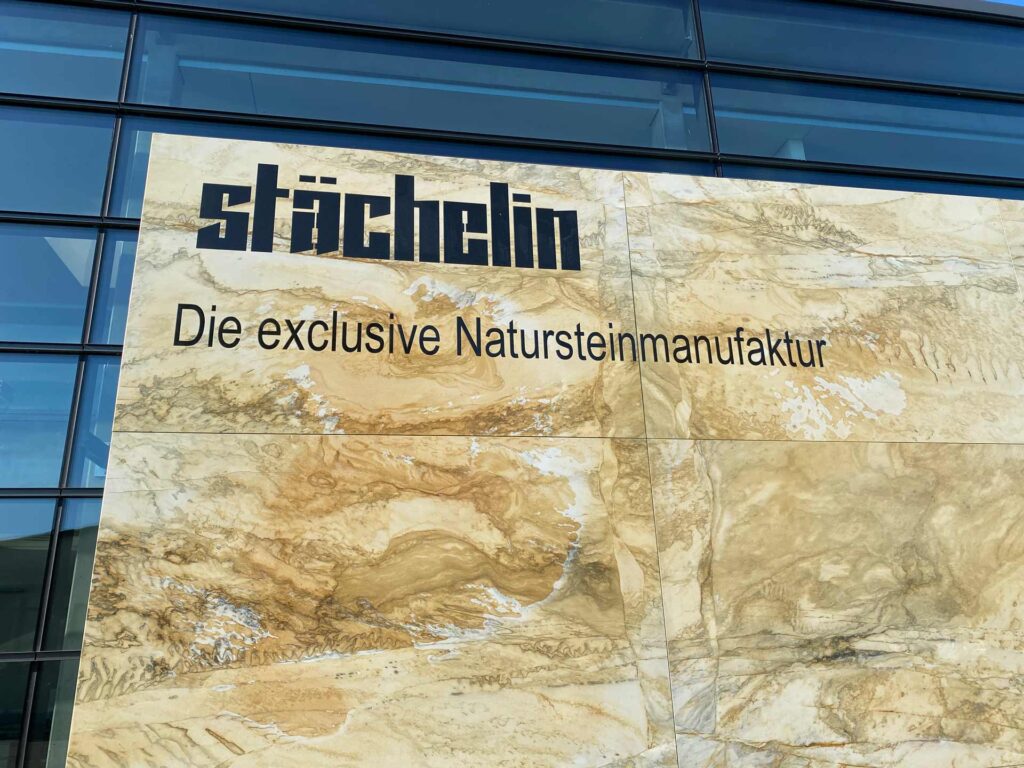 Granit-Marmorwerk Stächelin GmbH has been processing the unique material natural stone for over 50 years. As an innovative company, they are always looking for new ideas, better solutions and process optimization in all areas.
The company's services range from bathrooms and kitchen countertops to gardens , outdoor spaces , exclusive lobbies and reception areas.
The high cut quality and high capacity utilization were decisive factors in the decision to purchase a second PremiumCut machine from STM.
STM Product Finder
Find your work system – tailored to you
The individual wishes and requirements of our customers are the measure of all things for us. In order to be able to offer customized solutions for every requirement, we have developed a special product finder.
You tell us what you need to deliver perfect work and we put together the individual components and parts, as well as the associated software perfectly and individually. And if you are unsure, let your work material try our test cut.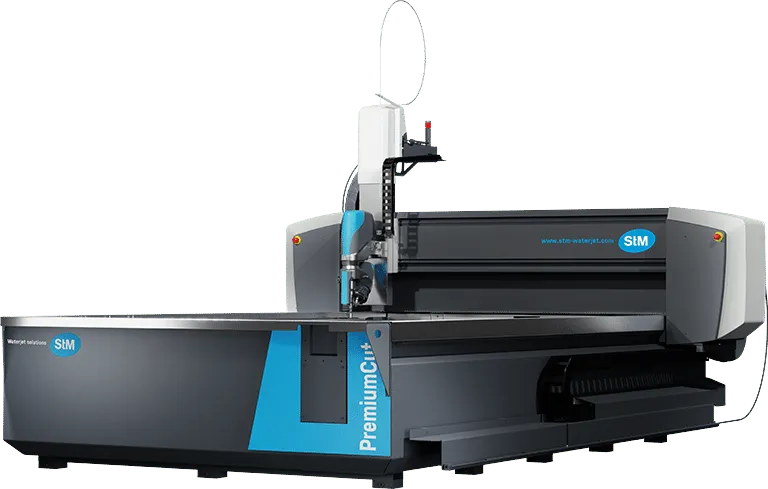 FAQ – Frequently asked questions
The most frequently asked questions about waterjet cutting stone
We have collected some FAQ on the topic, waterjet cutting of rock, and answered them succinctly for you.
If your question is not answered, please feel free to contact us directly.
What types of stone can be cut with waterjet cutting?
Waterjet cutting is a modern technology that can process all types of stone. Among them are granite, marble, limestone, slate, sandstone, travertine, quartzite and more.
What material thicknesses can be processed with waterjet cutting?
Waterjet cutting can precisely cut stone material thicknesses from a few millimeters to several centimeters.
Is waste produced during waterjet cutting of stone?
Dirty water and abrasives are produced. Water can be purified and recy cled to a large extent.
Can I use the waterjet cutting process to make complicated stone products?
Due to the small kerf and the high accuracy, complicated stone shapes can be produced without any problems.
Will the stone be damaged by the waterjet cutting?
Because waterjet cutting is a cold-cutting process, there are no negative effects such as deformation or discoloration.
Is waterjet cutting of stone economical for large quantities?
Yes, for large quantities, the precise separation process is an extremely economical solution for cost reasons.
Are there toxic fumes or emissions associated with waterjet cutting of stone?
No, the process does not produce toxic fumes or emissions and is therefore environmentally friendly.