STM waterjet cutting systems at a glance
Why you always perform better with STM waterjet:
STM customers value the highest level of operating convenience and personal advice. In the end, however, it is always about cost optimisation and energy saving. And this is precisely where the strength of our modular range and our individual solutions lies.
With the STM modular system, the customer gets everything he needs and nothing he doesn't. This saves costs and also space. By precisely adapting to the respective customer requirements and their individual manufacturing processes, we can keep the acquisition costs low. In addition, STM Waterjet focuses on the longest possible service life of the systems.
In development, STM pays particular attention to innovative modular system technology combined with connectivity, intuitive operation and high availability of STM waterjet cutting systems.
Technology
STM waterjet manufactures CNC-controlled gantry systems in all dimensions and for all applications as standard. Functionality and economy as well as ease of operation/maintenance and transportability are the determining factors in the design.
The design and price-performance ratio of our waterjet cutting systems also enable small and medium-sized companies to enter the technology. Each system can be used for pure water, abrasive or combined cutting processes. This means that all machines can cut a wide range of materials without retooling. Parallel cutting (2D) with up to twelve cutting heads is also possible. Our systems are manufactured in series, pre-installed, tested and usually delivered containerised.
Construction
Our waterjet cutting systems have a compact, user-friendly design consisting of three elements: cutting table, control unit and high-pressure pump. These three units are perfectly linked visually and functionally.
Regardless of the model, all structural components and screws are made of wear-resistant stainless steel or aluminium. Characteristic features are the flat underbody and the smooth side walls with concealed linear guides and a high-pressure tube carried in the axles.
The fully digital drive consists of brushless AC servo motors with multi-axis NUM, Eckelmann or Siemens CNC control. The associated software runs on MS-Windows and only requires a standard PC.
Drawing is done directly in the cutting programme, which can also be used to continuously adjust the cutting pressure and abrasive quantity. The entire IT technology is integrated into a freely movable control panel from which all processes are centrally controlled. This guarantees maximum operator comfort, control and safety.
The standard equipment also includes the abrasive dosing system with abrasive pressure conveying and intermediate dosing. When it comes to high-pressure pumps, only the best systems such as BFT high-pressure pumps are good enough for us. Depending on the requirements, they provide up to 6000 bar with a connected load of 11-75 KW and 1 – 10 litres per minute.
Energy efficiency
The high-pressure pump switches off automatically after cutting
Robust lightweight construction that does not require a special foundation
Low power consumption of the control unit (3 kW)
Low use of compressed air, as the abrasive dosing system only delivers when the level is at minimum
Stepless pressure regulation for maximum energy efficiency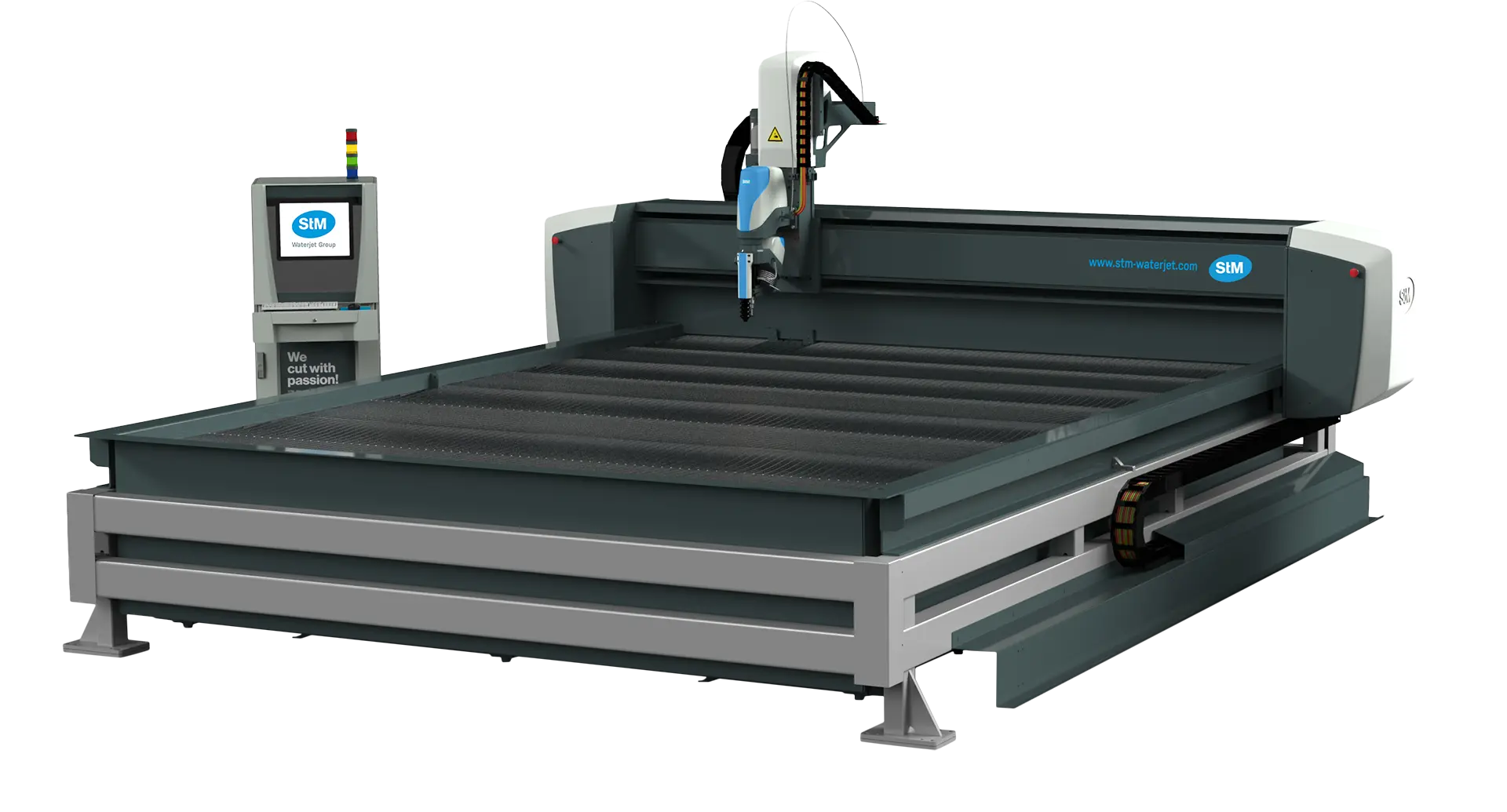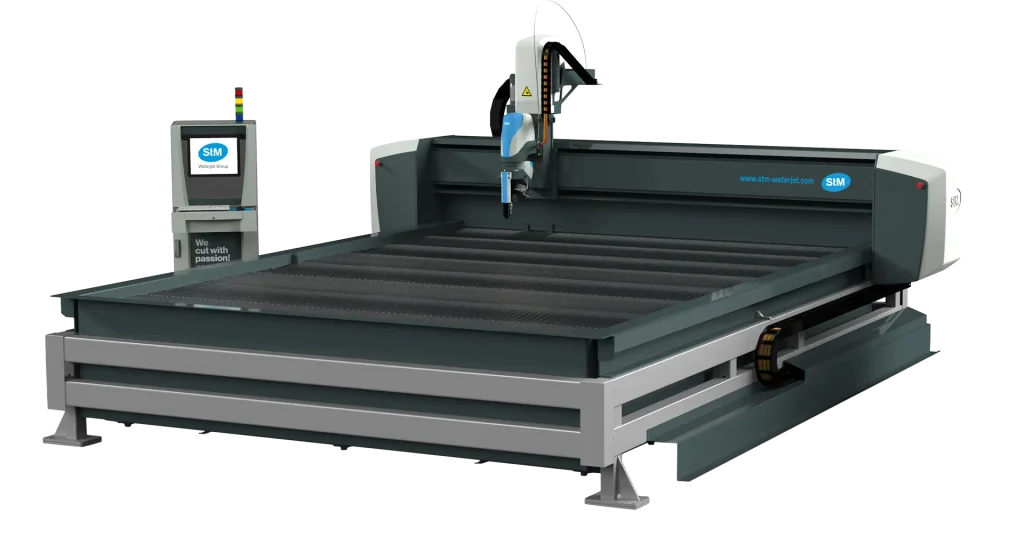 PremiumCut IFC
The versatile and robust special design
STM PremiumCut IFC (Independent Frame Construction) systems are characterized by their extremely robust design. In contrast to the structure of the normal systems, IFC systems have a free-standing frame structure for the STM Premium guidance of the X and Y axes and a modular structure of the tub elements.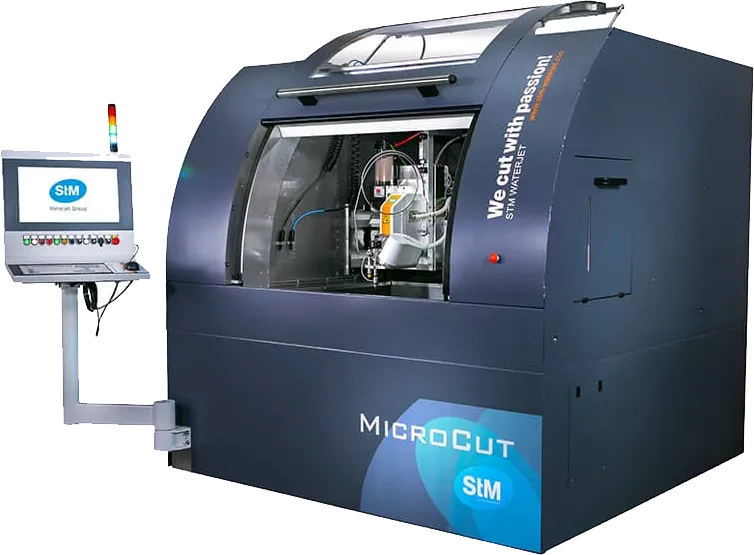 MicroCut 4.0
The specialist for highest precision and extremely delicate cuts:
This micro waterjet cutting system enables the machining of extremely delicate and highly functional components from any material, and with record cutting accuracy. This makes the MicroCut the ultimate all-round solution for advancing miniaturization.
Material diversity
Waterjet cutting offers unlimited possibilities
With the waterjet technology can almost any material, whether metal, stone, glass, plastic and more. to be edited. It is a cold cutting process with high precision and quality.
Our waterjet cutting systems can be individually adjusted to your desired material.
We explain how it works, what types & techniques are available and in which industries it is used.