Waterjet cutting plastic
PVC, PET, PE, PP, POM, Plexiglas, Acrylic glass and many more.
Waterjet cutting is an innovative technology with high precision and quality and is therefore particularly suitable for cutting plastic.
This process is gentle on the material and enables low-abrasion processing of plastics without heating them. As a result, there is no structural change even in temperature-sensitive materials. Thus, for example, plastic sheets, plastic pipes or foils can be cut without stresses, fusion or cracking.
This cutting process does not produce any toxic gases or vapors, which is why the waterjet scores in terms of occupational safety and environmental friendliness .
What types of plastic can be cut?
Waterjet cutting of plastics can successfully process a wide range of types and material thicknesses.
The non-contact and non-thermal cutting technology of waterjet cutting allows delicate plastics that could be damaged by other processes to be cut precisely.
As a rule, plastics with thicknesses ranging from a few millimeters to several centimeters can be cut.
Polyethylene (PE)
Polypropylene (PP)
Polyvinyl chloride (PVC)
Polystyrene (PS)
Polyethylene terephthalate (PET)
Polyurethane (PUR)
Polycarbonate (PC)
Acrylonitrile butadiene styrene (ABS)
Polyoxymethylene (POM)
Polyamide (PA)
Would you like more information about cutting plastic with water?
5 advantages – waterjet cutting wood
Waterjet cutting of plastics offers a variety of advantages. The cut is made without thermal influence, which keeps the material properties of the plastic intact. There is no discoloration or melting edges on the cut edges, and the material retains its original quality.
The process enables high precision and fineness in cutting plastics. Even complex shapes and intricate details can be realized with great precision. In addition, waterjet cutting is extremely versatile and can process a wide range of plastics, regardless of their hardness, density or composition.
Waterjet cutting produces burr-free cut edges, which often eliminates the need for time-consuming mechanical finishing and thus saves time and money. In addition, the process is environmentally friendly as it does not produce harmful fumes, dust particles or exhaust gases. The water used can be recycled in many cases, resulting in a sustainable and resource-saving cutting solution for plastics.
Technical details
Waterjet cutting of plastics is a high-precision cutting process based on the use of a waterjet with high kinetic energy. The water jet is accelerated to a high speed by special cutting nozzles and hits the plastic material to be cut. The high speed and high pressure of the water jet separates the plastic molecules, resulting in a clean and precise cut.
To optimize waterjet cutting of plastics, abrasive materials such as sand or garnet sand are used as additives. These abrasives increase cutting performance and enable cutting of harder plastics. The cutting nozzles and cutting heads can be changed according to the cutting requirements to process different material thicknesses and contours.
Modern waterjet cutting systems from STM offer a wide range of fine-tuning options and guarantee the highest precision and quality when cutting plastic.
For thinner plastics, such as acrylic or PET, precise cuts can be made in thicknesses of about 1 mm – 10 mm with waterjet cutting. For thicker plastics such as ABS or polycarbonate, cuts up to a thickness of 250 mm or more may be possible.
Any shape cuts and bevel cuts up to 60° are possible.
The cutting accuracy is usually +/- 0.1 mm.
In waterjet cutting, the cut quality is basically divided into 5 quality levels.
Separating cut Q1 (for blanks / semi-finished products)
Standard cut Q3 (the most common cut)
Fine cut Q5 (for optimum dimensional accuracy)
In waterjet cutting of plastics, the achievable cutting speeds are usually in the range of 600 to 3000 mm per minute.
As a rule, the water pressure for cutting plastic is between 3600 and 4000 bar.
CNC control enables precise and repeatable cutting. The STM SmartCut cutting software offers high ease of use and functionality as well as flexibility.
References
The best advertising is known to be satisfied customers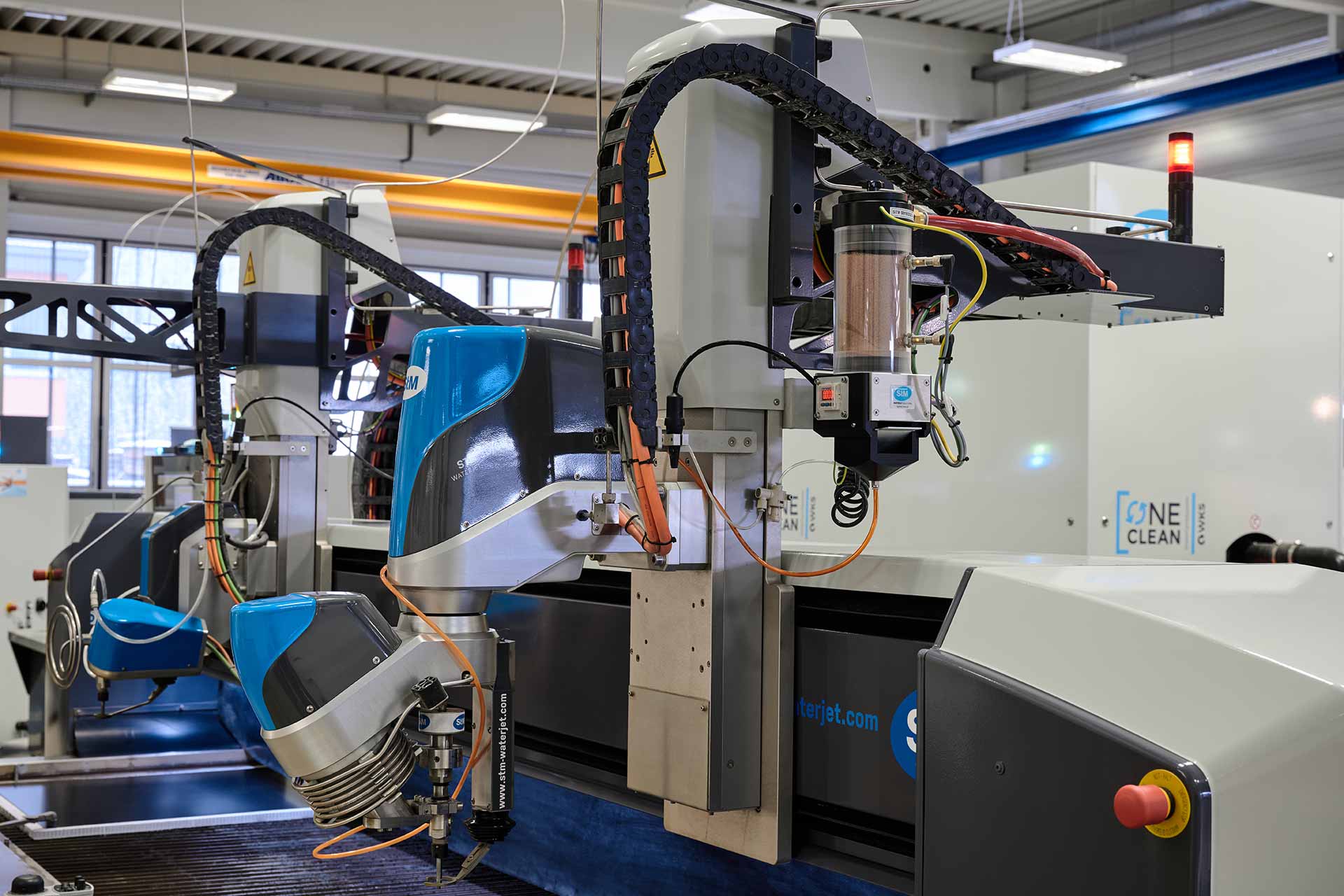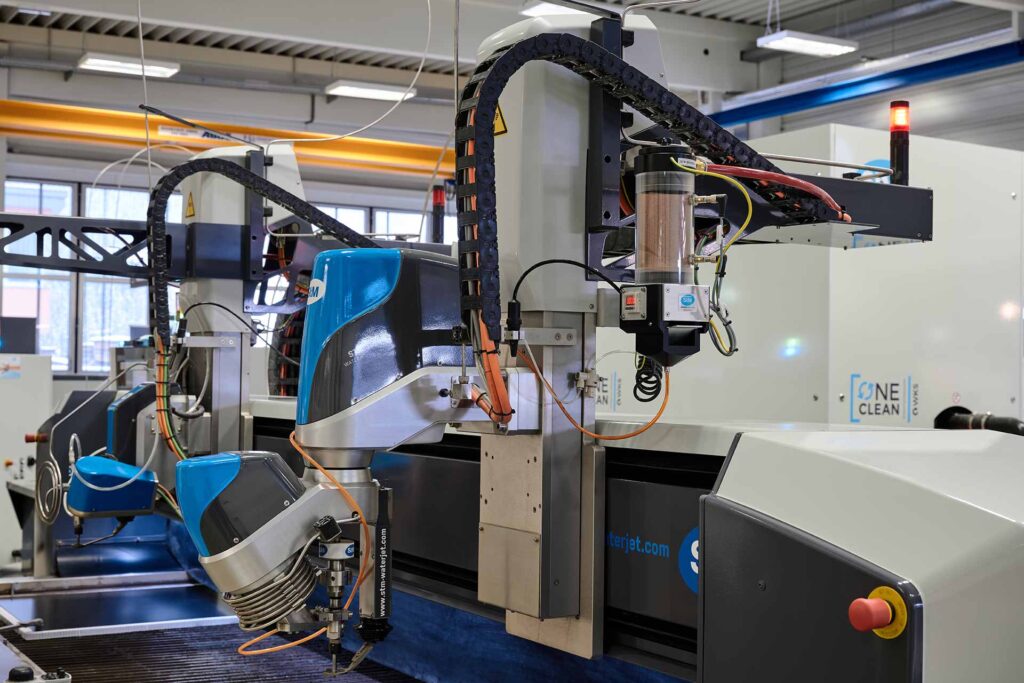 Among our references you will find customers & partners from various fields. Among them are companies and facilities from the following industries:
Metal industry
Stone / Ceramics / Glass
Plastics / foam industry
Sealing industry
Prototype / plant engineering
Microwaterjet
Educational Institutions
Research
Special materials
STM Product Finder
Find your work system – tailored to you
The individual wishes and requirements of our customers are the measure of all things for us. In order to be able to offer customized solutions for every requirement, we have developed a special product finder.
You tell us what you need to deliver perfect work and we put together the individual components and parts, as well as the associated software perfectly and individually. And if you are unsure, let your work material try our test cut.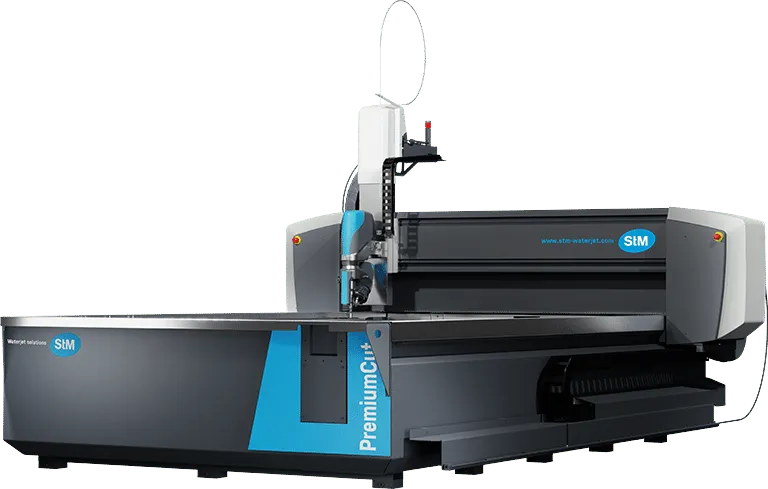 FAQ – Frequently asked questions
The most frequently asked questions about waterjet cutting of plastics
We have collected some FAQ on the topic, waterjet cutting of plastic, and answered them succinctly for you.
If your question is not answered, please feel free to contact us directly.
Which plastics can be processed with waterjet cutting?
Waterjet cutting is suitable for a wide range of plastics such as PE, PP, PVC, ABS, PC, PET and many more.
What material thicknesses can be processed in waterjet cutting of plastics?
As a rule, plastics with material thicknesses of a few millimeters up to 250mm or more can be cut precisely.
Does waterjet cutting cause discoloration or fusion marks on the cut edges?
No, waterjet cutting is non-contact and does not involve heat, which means there is no discoloration or melting edges.
Is waterjet cutting of plastics environmentally friendly?
Yes, waterjet cutting produces no harmful fumes or exhaust and the water or abrasive used can be recycled.
Can waterjet cutting cut complex shapes and intricate details from plastic?
Yes, waterjet cutting enables high precision and delicacy, allowing complex shapes and intricate details to be cut precisely.
Is post-processing required after waterjet cutting of plastic?
In most cases, mechanical finishing is not required, as waterjet cutting produces burr-free cut edges.
What advantages does waterjet cutting offer for plastics compared to other cutting processes?
Waterjet cutting convinces with burr-free cut edges, no thermal influence on the material, high precision, environmental friendliness and the versatility to process different plastics.
How much water pressure is needed to cut plastics?

As a rule, you need about 3500 bar for waterjet cutting of plastics.
How does waterjet cutting of plastic save time and money?
You can often easily get the final shape in a single cutting pass. In addition, you do not need any post-processing of the plastic parts cut with a waterjet.