User report: Natural stone specialist cuts with not one but two STM waterjet cutting systems
Quality in a double pack.
Stächelin does even better with two STM waterjet systems.
For more than 50 years, Granit-Marmorwerk Stächelin GmbH has already been dealing with the unique material natural stone. As an innovative company, we are always on the lookout for new ideas, better solutions and process optimization in all areas. That is why the German parade company now also relies on two waterjet cutting systems from STM.
In Baden-Württemberg, more precisely in Efringen-Kirchen, the natural stone specialist Stächelin has its headquarters. Founded in 1964, the family business has been focusing on the processing of natural stone for more than half a century. Services range from bathrooms and kitchen countertops to gardens and outdoor spaces to exclusive lobbies and reception areas. "Our goal was and is the optimal combination of tradition and innovation. That is why today we are also one of the top addresses in Germany when it comes to exclusive natural stone work," explains Uwe Stächelin, who runs the company with sister Yvette Rathberger-Stächelin as managing partner.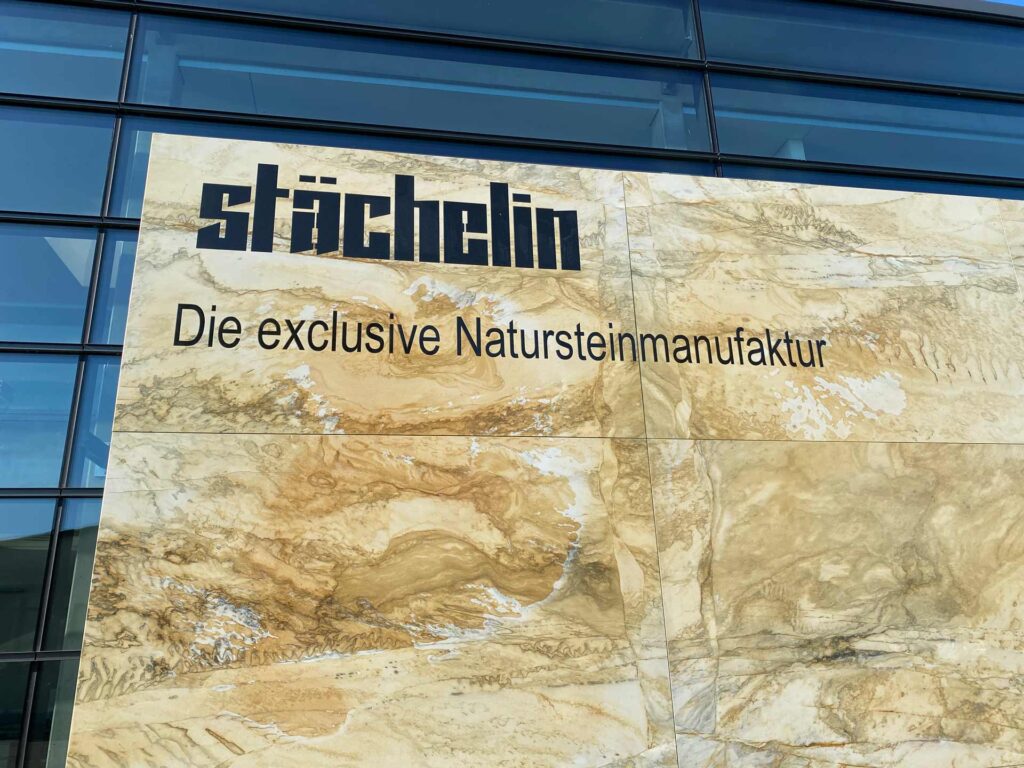 Highest quality and competent advice
Before production was equipped and upgraded with the first STM waterjet cutting system years ago, Stächelin sounded out the market properly. One reason for the decision in favor of the Austrian waterjet cutting specialist was the competent advice. STM waterjet GmbH has its origins in a stonemasonry company and therefore knows the needs of its stone processing customers. In order to meet the highest demands in production as well, Stächelin therefore opted for an STM PremiumCut waterjet cutting system with a 68° cutting head.
Avoid possible standstill with a second device
Even this first STM waterjet cutting system was soon in use at Stächelin for ten hours a day. "Because everything runs even faster and more precisely with it. The quality and accuracy of the mitre cuts are exceptional," says Uwe Stächelin enthusiastically. And the high cut quality, as well as the high capacity utilization, were decisive factors in the decision to purchase a second PremiumCut machine from STM. "Now both waterjet cutting systems run 10 hours a day, giving us double assurance that there won't be a complete shutdown and loss of production."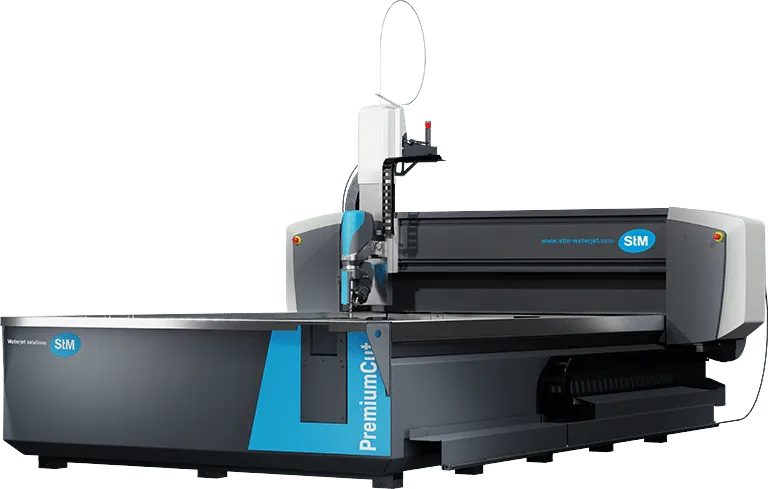 Score with state-of-the-art technology
The cutting of natural stone and ceramics is, after all, a special "parade discipline" of waterjet cutting systems. This is because virtually no post-processing is required. There is no risk of discoloration or deformation as the jet leaves no rough edges and little material waste. The technology scores with high linear precision over the entire cutting length. Even miter cuts with lengths over 3 m are possible.
And STM waterjet cutting systems are – despite complex possibilities – easy to operate. They have high availability due to standardized modules and service. Their connectivity allows remote maintenance and extensions via update. And according to Uwe Stächelin, the systems are anyway "the gentlest way to cut natural stone, ceramics, quartz, composite and much more. Especially with large decorative washbasins, we see the decisive advantage – here we can mitre cut, glue – and it looks like a beautiful, large whole," he continues. Because these miter cuts are so essential today, waterjet cutters became indispensable.
New opportunities and a new offer
Since it is now possible to offer services that could not be done at all before, the waterjet cutting systems have also expanded the company's range and portfolio. A lot of things have become more sophisticated and you can offer all that now. This stimulates business enormously. For inlays, lettering, company logos or floor and wall coverings, waterjet cutting is in fact ideal and opens up limitless possibilities for creative design. One advantage is that the minimal kerf width of the waterjet harmonizes perfectly with hard and brittle materials, so there is no chipping of the edges.
Can't, no longer exists
And last but not least, Mr. Stächelin mentions a very important point. There are simply also natural stones that you can not saw. With quartzites and crystalline rocks, you could hardly get a clean, smooth cut. It used to be really complicated every time to find suitable solutions here. "With the waterjet cutting systems, these problems are also thankfully a thing of the past," says Mr. Stächelin with a smile.
And for even more satisfaction, STM supports its customers from technical consulting, business planning, sample costing, project planning of complete systems, test procedures, shipping, to sales training and procurement of subcontracts. Water and abrasive recycling systems are also offered as additional components. In addition, STM waterjet cutting systems are 98% recyclable.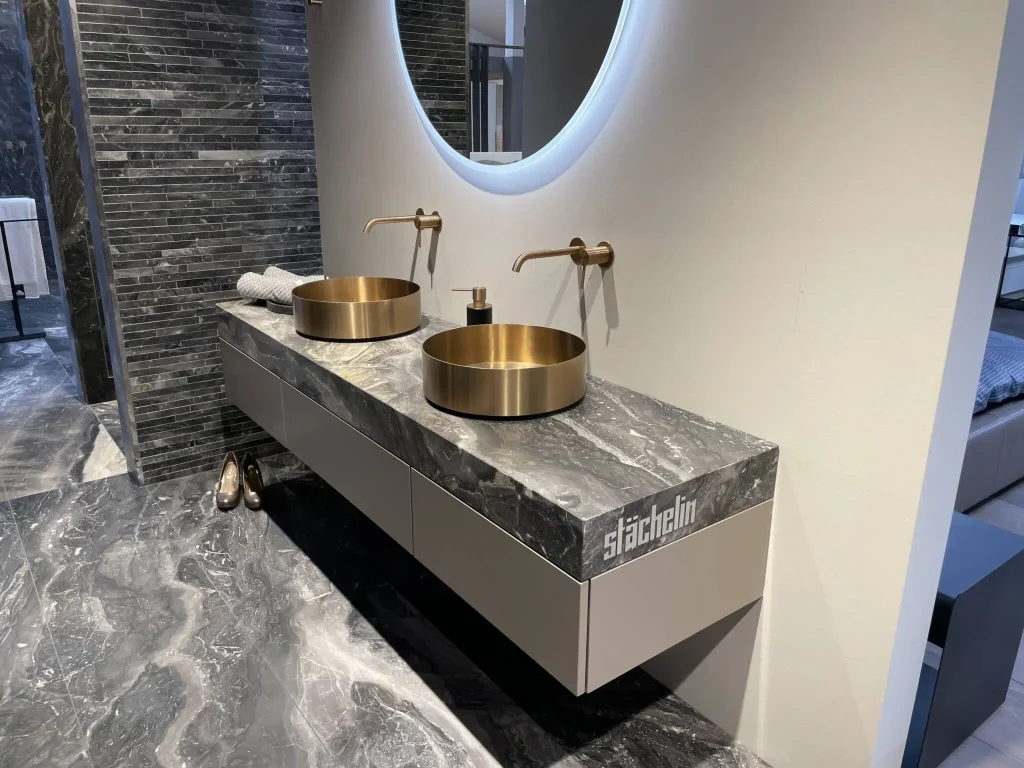 Stächelin is the specialist for upscale natural stone solutions for interior and exterior design. Located in the border triangle in Efringen-Kirchen in the district of Lörrach, the 100% family-owned company produces exclusive solutions for many customers in Germany, Switzerland and France. The company provides all services (design, processing and installation), which are indispensable for the perfect implementation of a defined concept. Today, Stächelin is one of the best addresses in Germany when it comes to exceptional natural stone work.
Photos: (c) Granit-Marmorwerk Stächelin GmbH/Uwe Stächelin