User report: Leading edge through EU-funded waterjet production "Powered by STM
With a subsidized STM waterjet system, resourceful metalworker Uwe Seck succeeds in making the leap from local niche supplier to regional just-in-time jack-of-all-trades for industry.
Head start through EU-funded waterjet production "Powered by STM
Since 1998, Uwe Seck (55) has been running his metal construction company in Bad Camberg, Hesse, together with his son, his wife and two employees. His professional passion lies in "making things happen", his focus is on custom products such as company signs, garden objects and individualized gifts for private customers as well as EN-1090-2 certified steel part series for small businesses in the region. He quickly established himself as a creative specialist for custom metal products. Most lucrative are his commercial customers, for whose orders he buys laser-cut parts from a contract manufacturer 35 km away.
It quickly becomes cutting parts worth €45,000 a year, for which he has to wait longer and longer. The entrepreneur does not like that. He wants to become self-sufficient in manufacturing and starts looking for cheaper alternatives to laser cutting. "Everything from a single source" is the new goal. In the end, it is son Tim, himself a budding toolmaker, who turns him on to waterjet technology. He becomes aware of STM at trade shows and in technical literature and acquires a 19-year-old STM MasterCut gantry system with a 3×2 meter cutting table in the fall of 2019 – including a one-year warranty plus support. This not only makes Uwe Seck independent in one fell swoop, but also opens up completely new areas of business. Soon he was cutting with abrasive or pure water as required, and in addition to cutting parts made of metal, he also produced workpieces made of ceramics, wood, rubber, granite, porcelain stoneware, copper foam, plastic and various special materials.
Challenge
After 18 months and 700 hours of operation, father and son are convinced: The growth possibilities exceed the current capacities of the company. With this realization comes the decision to realign the business and specialize in more lucrative manufacturing for commercial needs. Out of curiosity, Seck inquires with STM about a more powerful system. There, they recommend a PremiumCut system including a cutting head with angular error compensation, servo-driven high-pressure pump and OneClean cutting water treatment. An all-round energy-efficient precision system that would open up new dimensions for Uwe Seck in terms of quality, output and cost-effectiveness. The only problem: The acquisition costs of 220,000 euros make the 55-year-old doubt whether this investment will still pay off.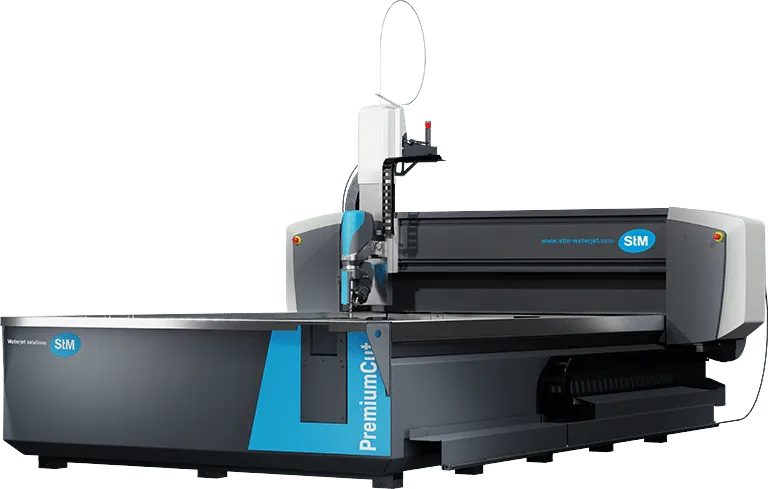 Solution
Confronted with these concerns, STM makes him aware of EU funding for more energy-efficient manufacturing technologies. Even more, the waterjet pioneer offers to support the entrepreneur in the application process and to take the old plant on commission. The family strikes enthusiastically. Soon after, Uwe Seck is awarded the EU grant and with it a 92,000 euro subsidy for the purchase of the STM PremiumCut in the configuration of his choice. His old plant, which continues to run perfectly, is sold in parallel at cost price to a company in the region. Seck himself only has to bear the maintenance costs in the end. He hands over the private customer business to his two employees, who also manufacture their orders as subcontractors with the new system. He and his son set about expanding the B2B business – supported by wife Annette Seck, who successfully boosts new business via Instagram.
Result
The new plant will be commissioned in early 2021 and will be coupled with the photovoltaic system on the roof, which has already provided 10,000 KW of electricity in 2020, covering 50% of the total demand. The four of them get training at the Austrian STM test center and, after a few startup problems, master the system thanks to son Tim and, later, support from STM Austria. So well that the son can continue his education and the father runs the "store" in personal union. Now it cuts workpieces up to a size of 2×3 m and a thickness of 250 mm 10% faster than before, and more precisely too, with perfectly square edges.
New business is picking up, so that after 10 months he has used the facility for 650 hours, increasing utilisation by 80%. "It was a struggle at first, but now I'm thrilled," says Seck, "The new machine cuts faster and more precisely. It stops automatically when a cutting job is finished. In addition, pumping out the cutting water with OneClean is much easier and more economical than before with air. But the best thing is that we finally have a super-competent STM employee in the form of the STM service technician who has optimally adjusted the system for us, who is always available and has a solution for everything."
The plant is self-financing from day one. No job is exotic enough not to accept. Even though Seck mainly works with steel, he continues to cut custom products such as wooden floors for fire trucks out of passion. "Never has 'there's no such thing as can't' applied to me more than it does now," Seck notes with satisfaction. "That is almost more important to me than great financial success". His conclusion: In the end, he has tapped into a growing market niche with his cross-material just-in-time full service for companies in the region, which would not be profitable with other production methods. Optimal conditions so that his son and successor can also fully develop professionally.
Detailed questions can also be answered personally by Uwe Seck:
Metal construction Uwe Seck
Mr. Uwe Seck
Brunnenstraße 1a
65520 Bad Camberg
Phone 06483 426 93 90
info@us-metallbau.de